Meditation to Release Stress Naturally (Online Session)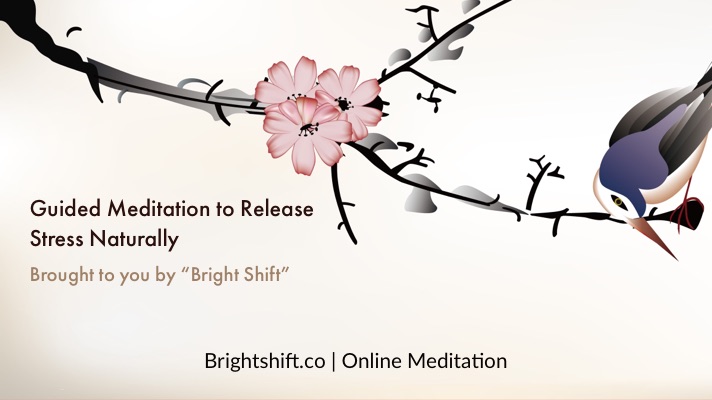 Meditation is truly a life-changing practice . We are certain that if you make meditation part of your daily routine, it will become one of the most precious gifts that you have ever given to yourself.
This session will start with a lecture and will lead to a deep meditation practice. The meditation offered on "Bright Shift" is a guided meditation as you will be guided step-by-step by an experienced, professional meditation and wellness instructor who has more than 20 years of experience in this field.

The focus of this month's meditation is on "the natural ways to release stress and tension from your whole system, achieving peacefulness and deeper spiritual connection."

Who is this session for?
Are you often stressed out?
Do you want to sleep better at nights?
Do you often feel sad and demotivated?
Are looking for a natural way to strengthen your immune system?
Do you want to add more joy to your life?
Are you looking for a deeper meaning and purpose in life?
Do you want to live a happier life?
Are you looking for ways to improve your memory and the sharpness of your mind?
Do you feel there is something missing from your life? Or perhaps a void that you are not sure how to fill?
Join us if you said yes to any of the above questions.

This session will cover topics such as :
-how to use meditation to release stress naturally
-the definition of energy body & the chakras
-how the condition of your chakras affect you
-introduction to alternative ways of healing the body and mind
-how to use your breath to calm down
-opening new horizons for the healing of mind and emotions and of course a deep meditation practice

Some benefits of this meditation include:
-reducing anxiety, stress and tension
-deep relaxation and sense of contentment
-enhancement of the sharpness of mind and productivity
-improvement of sleep and hormonal balance
-increased joy, sense of meaning and purpose in your life
About the instructors:

Raha is a professional meditation/ healing practitioner and instructor who has been teaching and practicing for more than 20 years.
She started her journey in this field by completing her academic studies in counseling psychology. However, this was just the beginning for her, as she continued exploring many other healing modalities in various schools of thought throughout the years.
Raha has studied and gained knowledge in holistic and alternative medicine, various types of yoga , meditation techniques and different healing methods. Some of those methods include: Transpersonal Regression Therapy (TASSO) , Family constellation Therapy, and Clinical Hypnotherapy.
Years of experience and the depth of her knowledge have equipped her with a profound understanding of how human beings can heal and transform .
Raha has worked with people of all backgrounds and nationalities. She has been an instrument to bring change to the life of many.
She views human beings as far more advanced and complex than mere personalities. In her approach, humans can raise above their psychological limitations and are filled with infinite possibilities of growth towards higher dimensions.
She provides a space where you can feel safe to experience stillness, peace and healing.

Leila is the founder of Bright Shift, She is passionate about making different healing modalities more accessible and tangible. She is a regular meditation practitioner who has been eagerly learning about meditation for years.
She holds a Bachelor's degree in Psychological Counseling and Guidance and a Master's degree in Strategic Marketing.
Leila has been teaching others how to meditate for many years. She is aiming to introduce meditation and its healing impact to all those who are looking to improve different aspects of their lives.
In her sessions, she discusses the scientific and lesser-known benefits of meditation and encourages her attendees to integrate meditation into their daily lives.
Leila refers to meditation as one of the most powerful tools that we can use to unlock the inner power within us.
Her sessions offer a deep insight into how meditation can help us become who we are meant to be.
Date: Saturday 21st of August 2021
Time: 11 am to 12:15 pm (UAE Time) please note, this is UAE timing.

Cost: US$29

Please note: once the registration is completed, you will receive the "Zoom" link of the session via the email that you have provided in the box below. Please make sure to check your Spam/Junk folder too. (You will receive the email in a few hours after the registration is completed.)
For questions or support, please contact: care@brightshift.co
"Important Notice: please make sure to provide your correct email address in the box below to receive the Zoom link of the class. The Zoom link of the class will be sent to the email address that you provide below. Enter your email below, and press the "Buy Now" button to complete the registration process.

Refund policy: no refunds, unless Bright Shift L.L.C cancels the event.